Heinz: Continuing education for nurses would benefit patients
By Jorge Salazar, Cronkite News Service
Published: January 28, 2011 at 11:08 am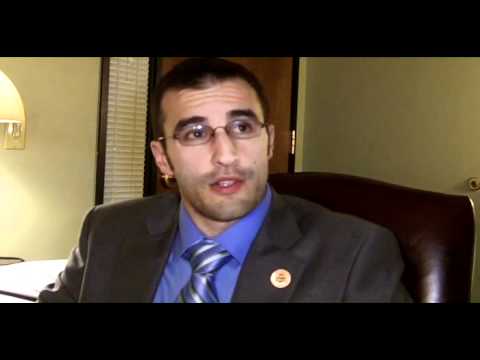 Requiring continuing education for nurses would improve patient safety in Arizona, a Tucson lawmaker said.
Matt Heinz, a Democrat who works as a hospital physician, is spearheading HB 2091, which would mandate 20 hours of instruction each year for nurses to keep their licenses.
"The nursing profession truly represents the people that are right there at the bedside with the patient for hours and hours a day," Heinz said. "I think it is especially important for them to demonstrate that continuing competency as a matter of public health and safety."
Heinz said 34 states already require continuing education for registered and licensed practical nurses.
The Arizona State Board of Nursing, which oversees licensing, currently requires that nurses accrue 960 hours of work over four years to keep their licenses.
Heinz said most acute-care hospitals and nursing homes throughout the state already provide continuing education for nurses, instruction that he said could be documented with the state board if his bill becomes law. He estimated that 25 percent of Arizona nurses aren't part of that group.
The bill doesn't specify what would constitute the format continuing education but offers examples such as individual or group training, electronic and video instruction and teleconferencing.
House Health and Human Services Committee has yet to schedule a hearing on the measure.
Dave Hrabe, associate dean for academic affairs at Arizona State University's College of Nursing and Health Innovation, said there is controversy regarding whether mandatory continuing education really works.
"One of the things [studies] have found in states that have mandatory continued education is a pattern where many nurses will wait until it's close to the time that they need to renew, then they will end up taking continuing education not related to their particular specialty," he said.
Robin Schaeffer, executive director of the Arizona Nurses Association, said some nurses have registered concerns about the bill.
"They're concerned that they're going to have to pay for it. They're concerned about the time they're going to have to put on their days off," she said.
Schaeffer said her organization has a goal of lifelong learning for nurses and is in favor of the bill, but she said wants the bill to be clearer about the types of education that would be required.
Heinz said he is working closely with the nurses association and nursing board.
"We're going to make changes on the language to make sure that everybody is on the same page," he said.
Key provisions of HB 2091:
• Requirement: Twenty hours of continuing education for a nurse to receive a license renewal.
• Training Types: The bill doesn't specify but uses individual and group training, electronic and video instruction and teleconferencing as examples.
• Exemptions: Extensions would be available in cases of personal illness, religious missionary activity or residence in a foreign country.
• Effective Date: April 1, 2013.
Recent topics include:

The social media party: an analysis of recent campaigns
Big ideas for small business: how to gain an advantage through social media
3 Responses to "Heinz: Continuing education for nurses would benefit patients"
Twitter Trackbacks for Arizona Capitol Times » Blog Archive » Heinz: Continuing education for nurses would benefit patients [azcapitoltimes.com] on Topsy.com Says:
January 28th, 2011 at 2:17 pm

[...] Arizona Capitol Times » Blog Archive » Heinz: Continuing education for nurses would benefit patien… azcapitoltimes.com/news/2011/01/28/heinz-continuing-education-for-nurses-would-benefit-patients/ – view page – cached * Home > Latest News, health care, legislature > Heinz: Continuing education for nurses would benefit patients [...]

nurz2b Says:
July 5th, 2012 at 11:08 pm

Additional edcuation doesn't guarantee better practice. I've worked with RNs who have obtained a higher degree in nursing and their practice hasn't changed. Continuing education falls under the same blanket. Also, who is to determine what competency really is? Because a person reads an article or watches a webinar and completes a test, it doesn't mean they will be better nurses. We have at least annual skills fairs at work to keep us up to date, as well as nurse educators. Also, with the various specialties and areas of nursing, nurses can choose from any topic of interest to complete continuing education. Whether it pertains to their practice area or not, there isn't a guarantee that they will provide better care overall, let alone in their area of practice. There are rural areas in which access to obtain and complete continuing education would be difficult, at best. Providing better patient care is a personal career choice. Those who know what being a nurse is really about naturally provide good patient care. Forcing people to complete continuing education is going to make them want to learn more about nursing even less. We learn through our daily practice at work, as well as through our voluntary magazine subscriptions and nursing orgranizations memberships.

Melinda Preston Says:
February 21st, 2013 at 10:00 pm

Though making continuing education mandatory is not the perfect solution to the issues of competency and maintenance of the nursing profession. It is a marker for any profession to provide some assurance to the consumer of health care that nurses do have some sort of continuing requirement to be licensed. Otherwise, is the only reason to get a license renewed to provide revenue for the Board of Nursing?

If indeed each nurse has to meet competency levels in order to be initially licensed when they finish an accredited program, how can any healthcare consumer feel reassured that there is any required continuing growth. I agree that some nurses undertake new growth in nursing as a personal goal. But this is not the general rule. As a clinical nurse specialist (CNS) back in the early 90′s I found a nurse on the unit that I was hired to be the clinical educator and supervisor that had been a nurse for 28 years. But unlike most of the seasoned nurses in that unit, she'd been a nurse for one year but 28 times without any growth whatsoever. Though she rarely missed work, she never moved out of the stage of novice and was even at times a true detriment to her patients.

As the CNS, I prepared and conducted a new two hour mandatory education session on the unit monthly (multiple times each month to cover all the staff.) This nurse's inability to grow became more and more obvious with being evaluated in those sessions and in clinical supervision weekly (as was the practice for each primary nurse). Skills fairs without a competency evaluation or other education that does not have a competency evaluation attached will not meet the true definition of a profession (assuring our recipients that we maintain skills/knowledge and grow in both). But this effort toward some way to give a consumer some measure of assurance must move forward.

The topic has so long been dropped now, that it is not even a topic. If you become a patient, ask yourself, what kind of nurse do you want to take care of you? One who has in some way met a continuing competency evaluation or test, or taken certain types of continuing education with an evaluative tool…. or instead one who's been a nurse for 28 years without any of that guarantee beyond a hospital keeping someone on the staff that isn't missing much work and attended a skills fair. This conversation needs to continue.
ARIZONA LEGISLATIVE REPORT