In his latest TV ad, Senate President Russell Pearce is trying to paint fellow Republican Jerry Lewis, his challenger in a recall election, as soft on illegal immigration.
The commercial, which began airing today, presents Lewis as an unknown entity compared to Pearce, the architect of Arizona's tough anti-illegal immigration law, SB1070.
The ad's emphasis on illegal immigration is also notable, given that the topic has taken a more prominent role in the campaign lately. Earlier, both camps shied away from focusing on the complex, hot-button issue.
The ad also touts Pearce's accomplishments in passing a balanced the budget and a bill aimed at spurring economic growth.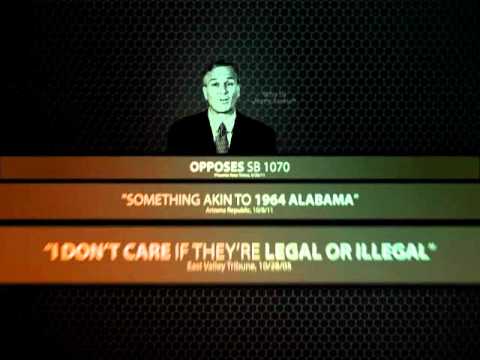 "All we really know is he opposed SB1070, compared Arizona to 1964 Alabama and wants your tax dollars to pay for illegal aliens to attend college," the ad narrator says, referring to Lewis, a charter school executive.
The ad is less negative than an earlier web video, which wasn't aired on TV and wasn't publicly released, calling Lewis a thief who stole from homeless kids.
The two Republicans will square off in a recall election Nov. 8.
Meanwhile, independent spending for Pearce is dwarfing any help Lewis is getting.
So far, Pearce has benefited from about $46,000 in spending by independent expenditure groups.
Independent expenditures on behalf of Lewis stand, as of press time, at $6,500.
However, one D.C.-based group called Campaign Money Watch has also targeted Pearce, spending nearly $9,000 in mailings against him.
Related: