Just a few percentage points separate Mitt Romney and Rick Santorum in the polls for Arizona's GOP presidential primary, but the two frontrunners Wednesday night did little to differentiate themselves on the issues nearest to Arizona Republicans' hearts.
The housing crisis and even the economy took a back seat to foreign policy, birth control and other issues with all four candidates at the CNN Arizona Republican Presidential Debate at the Mesa Arts Center
And while border security and Arizona's battle with the federal government on illegal immigration was a big topic of discussion, Newt Gingrich, Romney and Santorum found little to disagree on when it came to Arizona's signature issue.
Romney, the former Massachusetts governor, ducked moderator John King's question on whether he would follow Maricopa County Sheriff Joe Arpaio's aggressive approach to enforcing illegal immigration laws, but pledged to end the U.S. Department of Justice's lawsuit against Arizona over SB1070 and complete a border fence.
He also praised the Legal Arizona Workers Act, which requires all employers to use the E-Verify system to ensure that workers are in the country legally, as a model for the rest of the country.
"If an employer hires someone that has not gone through E-Verify, they're going to get sanctioned just like they do for not paying their taxes," Romney said. "You do that, and just as Arizona is finding out, you can stop illegal immigration. It's time we finally did it."
Santorum said it was a "step too far" to require homeowner to check maids and other household workers through E-Verify, but supported Arizona's employer sanctions law and backed a tough approach to the enforcement of illegal immigration laws.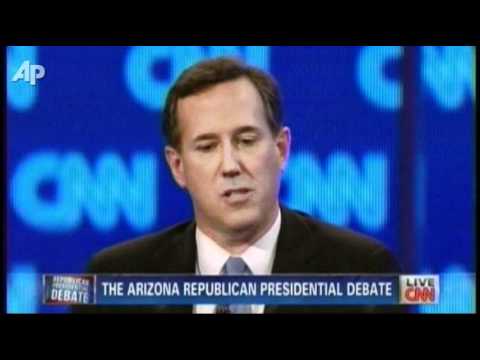 "What we need to do is to give law enforcement the opportunity to do what they're doing here in Arizona and what Sheriff Arpaio was doing before he ran into some issues with the federal government, which is to allow folks to enforce the law here in this country, to allow people who are breaking the law or suspicious of breaking the law to be able to be detained and deported if they're found here in this country illegally, as well as those who are trying to seek employment," the former Pennsylvania senator said.
Gingrich, known for having a less conservative approach to illegal immigration, said he would not support a comprehensive immigration reform bill. The federal government must tackle the problem step by step, he said, and the first step is securing the border.
Early in the debate, Gingrich chastised President Barack Obama for his failure to secure the border and decision to sue Arizona instead of work with Gov. Jan Brewer. He pledged to work with all four border governors to complete a fence by Jan. 1, 2014.
"Let's assume you could, tomorrow morning, have a president who wanted to work with your governor, that instead of suing Arizona, helped Arizona, who actually worked with Arizona," Gingrich said in an early applause line.
But Gingrich, the former House speaker, is lagging in the Arizona polls. Before the debate, spokesman R.C. Hammond said Gingrich was focusing his attention on states like Georgia, Oklahoma, Tennessee and Washington, but not Arizona.
Libertarian-leaning firebrand U.S. Rep. Ron Paul said a fence was "probably not" a good investment, but urged a renewed commitment to border security, though with a twist that has made him stand out from the crowd in both the 2012 and 2008 races.
"We can do a better job, and the best way to do it is forget about the border between Pakistan and Afghanistan and deal with our borders, put our resources on this border," said Paul, expounding his isolationist foreign policy ideals.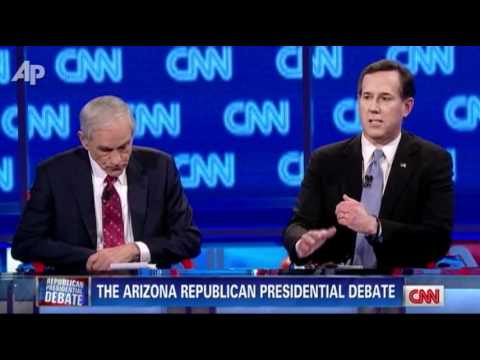 Gingrich spoke frequently about increasing oil and energy production in the U.S., which he said would create jobs and decrease America's dependence on hostile foreign countries.
Romney, who was dominating in Arizona until Santorum's recent surge, clearly had the support of much of the crowd, which booed Santorum a couple times.
But with Feb. 28 primaries in both Arizona and Michigan, viewed by many as a do-or-die race for both frontrunners, Romney and Santorum pounded each other on their records. Romney blasted Santorum for his longtime support of earmarks in the U.S. Senate, only to have Santorum call him out for receiving hundreds of millions of dollars in earmarks during his time as governor, as well as in his stewardship of the Salt Lake City Olympics in 2002.
When Santorum said he used earmarks, as did most other members of Congress, even conservative hero U.S. Sen. Jim DeMint. But when abuses became rampant, he said, he supported an end to the process.
"I defended that at the time," Santorum said. "I do believe there was abuse, and I said we should stop it, and as president I would oppose earmarks."
"I didn't follow all of that, but I can tell you this," Romney retorted, "I would put a ban on earmarks. I think it opens the door to excessive spending, spending on projects that don't need to be done."
Romney blasted Santorum for his previous votes to raise the debt ceiling, while Santorum shot back that Romney said he would've supported the 2011 debt ceiling deal that rallied conservative House Republicans. Romney also attacked Santorum, who is known for his staunch social conservatism, for voting for appropriations bills that included funding for Planned Parenthood, and for voting for the No Child Left Behind Act.
"Senator during your term in Congress, the years you've been there, government has doubled in size. You voted to raise the debt ceiling five times without compensating cuts in spending," Romney said.
Santorum said he regrets his vote for No Child Left Behind, but said he voted for the act to be a team player for one of former President George W. Bush's top priorities.
"When you're part of the team, sometimes you take one for the team, for the leader, and I made a mistake," Santorum said, eliciting boos from the crowd.
Paul used the opportunity to take a swipe at Santorum.
"He calls (politics) a team sport. He has to go along to get along and that's the way the team plays. But that's what the problem is with Washington. That's what's been going on for so long," he said.
And, of course, Santorum raked Romney over the coals for his universal health care initiative in Massachusetts, which he called the inspiration for Obama's Affordable Care Act.
Romney pledged to turn over control of a raft of federal programs to the states, saying states should receive block grants for housing vouchers, food stamps and other programs. He said states would run the programs better, and the issue was part of his three-point plan to balance the federal budget and reduce federal debt.
"These programs for the poor, to be run more efficiently and can be run with less fraud and abuse at the state level," Romney said.
Gov. Jan Brewer, who was largely responsible for bringing the CNN debate to Arizona, said she didn't think there was a lack of focus on Arizona issues. Brewer said she still hadn't decided who to endorse – she met with Gingrich, Romney and Santorum before the debate – but said she believed Romney did a "fantastic job."
"I think there was a lot of focus on Arizona issues. I think the majority of Arizonans are concerned about everything that was discussed tonight," Brewer said.
Following the debate, a handful of local politicos touted their chosen candidates, with Secretary of State Ken Bennett, Congressman Jeff Flake and House Speaker Andy Tobin praising Romney's performance. Bennett said he felt there could've been more focus on some Arizona-centric issues, but said talk of the economy, government regulation and other issues are as important to the state as any other state.
"Even though the Arizona-specific issues … of immigration and others were not numerically dominant, there was a lot of important things out there tonight that affect Arizona," Bennett said.
Mesa Mayor Scott Smith said he thought there was sufficient focus on the economy and jobs early in the debate. But he thought Romney and Santorum were casting their more toward Michigan than Arizona.
"I really think it was interesting that Governor Romney and Senator Santorum speaking directly to Michigan. There was a lot of answers that were geared toward Michigan," Smith said.
And Gilbert resident Steve Wayne, a Gingrich supporter, was upset that that no one mentioned the Fast and Furious gunrunning scandal.
"I just wanted them to bring it up to make it an issue, where people like us, constituents get angry enough that they call up Washington D.C. to push their leaders to figure out what's going on. I'm getting tired of it getting pushed under the rug," he said.