Congressional candidate Ron Gould released his first TV commercial June 7, and there's no missing the point he's trying to make.
Gould, who is currently a state senator, brandishes a shotgun and then happily blasts into pieces a copy of the 2010 federal health care law.
"Government-run health care?" he asks in the ad. "We don't want it. We don't need it. We can't afford it. This is what I'd do to that law. Pull…"
The ad then shows a copy of the health care bill being flung into the air and shot – in a style similar to skeet shooting. The commercial doesn't actually show Gould pulling the trigger.
The ad is clearly unorthodox, and is courting a gun controversy.
"I'm not the typical politician. I don't want to go to Washington to go along and get along," said Gould, who sports a T-shirt of pro-gun group Arizona Citizens Defense League in the commercial.
Sen. Steve Gallardo, a Democrat from Phoenix, said the ad reflects "bad taste," irresponsibility and carelessness on Gould's part.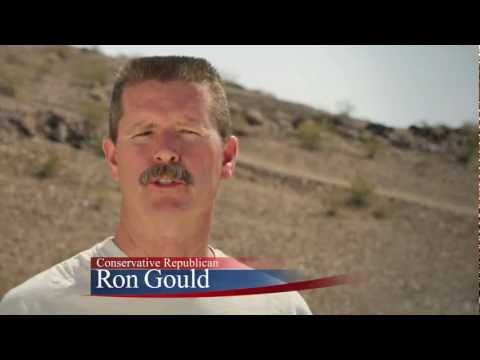 The majority of people will understand the point of the ad, but Gallardo said he fears it would also reach mentally unstable folks who might not get it.
"It sends the wrong the message," Gallardo said. "It hasn't been two years since the shooting of Gabby Giffords."
"When you talk about how partisan and ugly campaigns have been, this just fuels the fire," he said, adding there's no need to use guns to illustrate what one would do in Congress or when talking about federal legislation.
Gould said the mass shooting in Tucson and the attempted assassination of Congresswoman Gabrielle Giffords is "irrelevant" in the context of his campaign ad.
"It's a rural district, and those are the kinds of things that people do in rural districts," he said of the congressional district he is hoping to represent.
The first part of the commercial blasts the federal government for allegedly not protecting Arizona's border with Mexico.
It shows scenes of the border fence and then cuts to Gould and another person walking with dogs and armed with shotguns.
"Washington doesn't get us," Gould says. "We want our borders protected. If they won't do it, we will."
The TV ad, in short, attacks President Obama and the federal government, but makes no mention of his GOP primary opponent, Congressman Paul Gosar.
Gould told the Arizona Capitol Times he's not ruling out the possibility of attacking Gosar's record in future commercials.
Gosar earlier announced he's moving to Prescott from Flagstaff, which takes him out of the competitive but Democratic-leaning 1st Congressional District and puts him in the new 4th Congressional District, which is solidly Republican.
Gould, a state senator from Lake Havasu City, also announced earlier this year that he's running in CD4, which takes in most of the western Arizona border from north to south and a large swath of central Arizona.
The TV ad may be atypical, but Gould isn't the first congressional candidate to shoot at something in a campaign ad.
Former state Sen. Pamela Gorman also fired dozens of shots using several types of guns in a campaign video in 2010, when she ran for Congress. She and eight other Republicans lost that race to U.S. Rep. Ben Quayle.